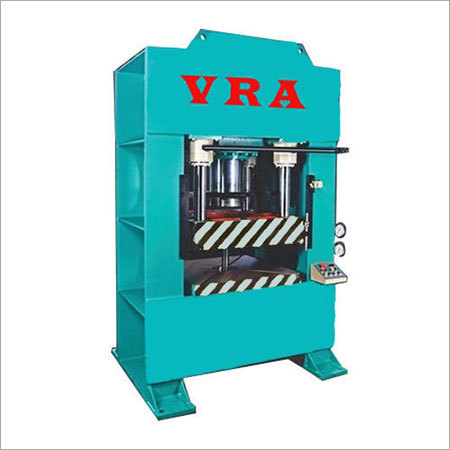 Hydraulic Deep Draw Press
Product Code : 02
Price And Quantity
Unit of Measure

:

,
Product Description
Hydraulic Deep Draw Press
Our hydraulic deep draw press are highly rigid, compact, space saving four-pillar type in design. Hydraulic deep drawing press are equipped with PLC, L.V.D.T depth control, photo sensor electronic safety guard, auto ejector. They are specially designed for uniform pressure on blank holder to avoid wrinkles during the process which improves the quality and productivity rate of products.
Hydraulic deep draw press is suitable for manufacturing stainless steel utensils and other automobile draw components with high degree of nish, productivity and speed.

| | | | | | | | | | |
| --- | --- | --- | --- | --- | --- | --- | --- | --- | --- |
| Model no. | Cap. (Ton) | Platen size (mm) | Day light gap (mm) | Main cyl stroke (mm) | Die cushion cap. (ton) | Die cushion cyl stroke (mm) | Die cushion table (mm) | Motor H.P | Model no. |
| V R A-100 | 100 | 50 | 50 | 500x500 | 500 | 250 | 450 | 7.5x | 5 |
| V R A-150 | 150 | 75 | 75 | 700x700 | 600 | 300 | 550 | 7.5x1 | 10 |
| V R A-200 | 200 | 100 | 100 | 800x800 | 600 | 300 | 550 | 10x1 | 10 |
| V R A-250 | 250 | 150 | 150 | 900x900 | 600 | 300 | 550 | 10x1 | 15 |
| V R A-300 | 300 | 150 | 150 | 1000x1000 | 700 | 300 | 650 | 15x1 | 15 |
| V R A-400 | 400 | 200 | 200 | 1200x1200 | 750 | 400 | 700 | 20x1 | 20 |
| V R A-500 | 500 | 250 | 250 | 1200x1500 | 800 | 400 | 750 | 20x1 | 20 |
| V R A-500 | 500 | 250 | 250 | 1200x1800 | 800 | 450 | 750 | 25x1 | 20 |
| V R A-600 | 600 | 300 | 300 | 1500x1800 | 900 | 450 | 850 | 20x2 | 25 |
| V R A-800 | 800 | 400 | 400 | 1800x1800 | 1000 | 500 | 900 | 30x2 | 25 |
| V R A-1000 | 1000 | 500 | 500 | 2000x2000 | 1200 | 600 | 1100 | 40x2 | 25 |
Contact Us
Plot No.13/8, Nangli Sakrawati Industrial Area, Najafgarh, New Delhi, Delhi, 110043, India
Phone :+917259415301